MOBITEC-GP app
The smartphone application developed in the MOBITEC-GP project is used to determine the walking speed and spatial mobility of older people in everyday life. For this purpose, the app uses the integrated GPS and motion sensors.
The app was developed together with general practitioners and their patients and is intended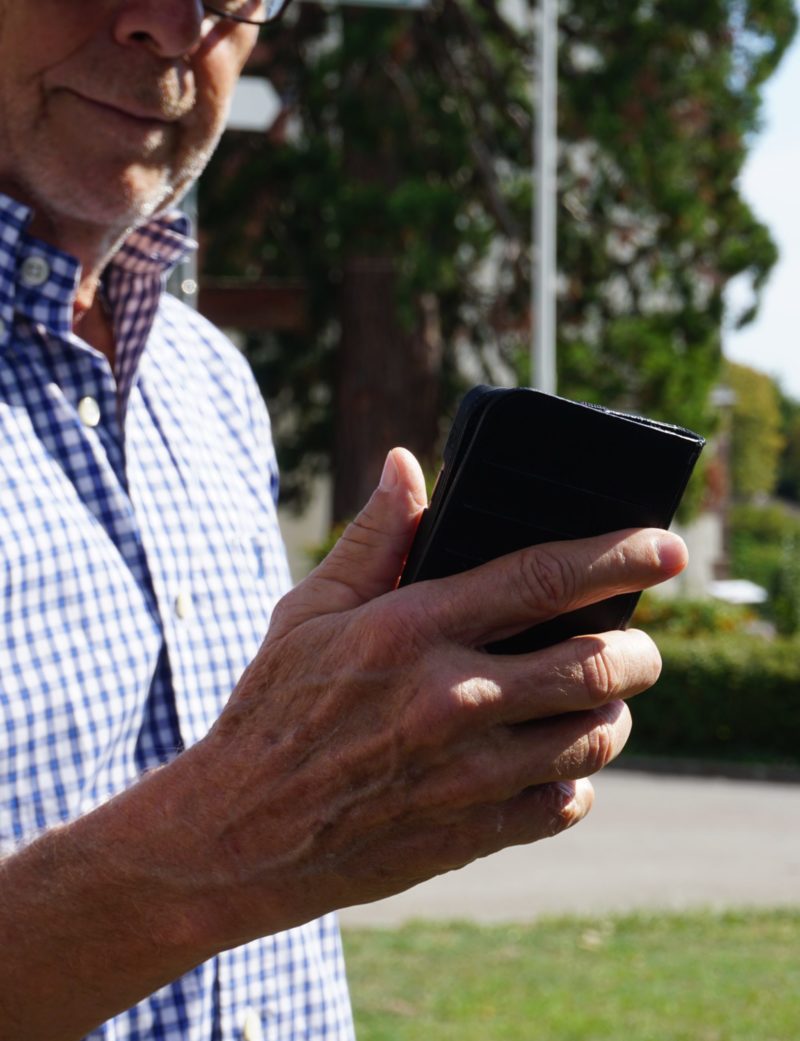 in particular to record mobility regularly in a simple way over longer periods of time and thus to detect possible changes at an early stage. The app was adapted to the needs of both target groups in several development steps. In addition to general practitioners, other health professionals (e.g. physiotherapists, occupational therapists) can of course also use the app.
Once the app has been installed on the user's smartphone, they are prompted to take regular mobility measurements. To measure walking speed, patients walk outdoors (e.g., in a nearby park) for 30 minutes. When measuring spatial mobility, the user's location is continuously recorded for 8 days using GPS.
Patients have the option to get a report of their measured values at any time. The report shows the current value of the walking speed and an evaluation of the walking speed in a traffic light system. The last 10 measured values are displayed graphically to allow easy assessment of progress. To evaluate spatial mobility and its change over time, the last 10 values of the action radius (the farthest distance from home that was reached) and the last 10 values of the distance traveled (with and without transportation) are presented graphically (example of an assessment report from the MOBITEC-GP app).
The report, which summarizes all evaluations on one DinA4 page, can be generated with a simple touch of a button on the smartphone. The report is automatically attached to an e-mail (as a pdf file). The user can either send it to their general practitioner or therapist or print it out for their own records.
Detailed instructions on how to use the app can be found here: User Manual MOBITEC-GP App

Additionally the following video will guide you through some of the operating steps:
A download of the app can be requested from us using the following form: Request for use of the MOBITEC-GP App

You will then be provided with the app by E-Mail, together with instructions on how to install it on your smartphone.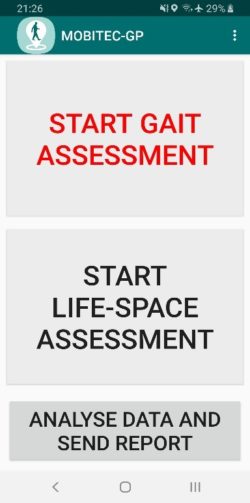 Project Management and Coordination
PD Dr. Timo Hinrichs (Project Lead; Department of Sport, Exercise and Health, University of Basel), Dr. Eleftheria Giannouli (Project Coordination; Department of Sport, Exercise and Health, University of Basel), Prof. Dr. Robert Weibel (Technical Development Lead; Geographic Information Systems Unit, Department of Geography, University of Zurich)
Programming of the application and underlying algorithms
Alexandros Sofios, Dr. Eun-Kyeong Kim & Dr. Cheng Fu (Geographic Information Systems Unit, Department of Geography, University of Zurich)
More information about the project, the project partners and partner institutions on: MOBITEC-GP project
The project MOBITEC-GP was funded by the Velux Stiftung, Funding Area "Healthy Ageing".
Publications
Giannouli E, Hinrichs T: Messung der Mobilität älterer Menschen – Smartphone-App unterstützt primäre Gesundheitsversorgung. pt – Zeitschrift für Physiotherapeuten 2021, 73:26-9.
Giannouli E, Kim EK, Fu C, Weibel R, Sofios A, Infanger D, Portegijs E, Rantanen T, Huang H, Schmidt-Trucksäss A, Zeller A, Rössler R, Hinrichs T: Psychometric properties of the MOBITEC-GP mobile application for real-life mobility assessment in older adults. Geriatric Nursing 2022, 48:273-9.
Münch M, Weibel R, Sofios A, Huang H, Infanger D, Portegijs E, Giannouli E, Mundwiler J, Conrow L, Rantanen T, Schmidt-Trucksäss A, Zeller A, Hinrichs T: MOBIlity assessment with modern TEChnology in older patients' real-life by the General Practitioner: the MOBITEC-GP study protocol. BMC Public Health 2019, 19(1):1703.